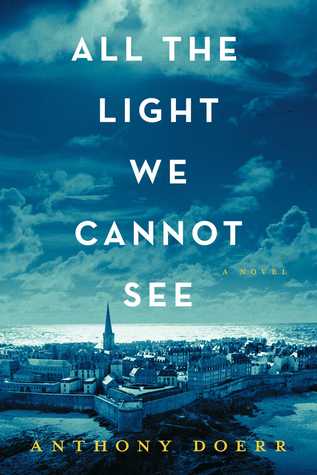 From Goodreads: Marie Laure lives with her father in Paris within walking distance of the Museum of Natural History where he works as the master of the locks (there are thousands of locks in the museum). When she is six, she goes blind, and her father builds her a model of their neighborhood, every house, every manhole, so she can memorize it with her fingers and navigate the real streets with her feet and cane. When the Germans occupy Paris, father and daughter flee to Saint-Malo on the Brittany coast, where Marie-Laure's agoraphobic great uncle lives in a tall, narrow house by the sea wall.

In another world in Germany, an orphan boy, Werner, grows up with his younger sister, Jutta, both enchanted by a crude radio Werner finds. He becomes a master at building and fixing radios, a talent that wins him a place at an elite and brutal military academy and, ultimately, makes him a highly specialized tracker of the Resistance. Werner travels through the heart of Hitler Youth to the far-flung outskirts of Russia, and finally into Saint-Malo, where his path converges with Marie-Laure.
Andrea's Thoughts:  I will admit, it took me a while to get through this on audio, but that was 100% a "it's not you, book, it's me" thing. I actually really, really loved this book. The audio was decent-nothing spectacular, but completely unremarkable (in a good way!! No annoying or distracting voices or accents). The story lines were good- I really enjoyed both sides.
I think I've mentioned before that I'm a big fan of WWII fiction, and this is one I'll recommend. Werner's perspective as that of a Hitler Youth is an unusual one, and one I think I liked. The author didn't really focus on the propaganda, but Werner is faced with some moral situations where the Nazi Party's craziness is shoved down his throat and he's forced to choke or swallow.
I'd definitely recommend this book, either in written or audio format. In case you're interested…The audiobook was 16 hours long- I think I listened to it at 1.25x speed so it was a bit shorter in actual listening time.