Each fall when the temps start dropping I get in the mood for holiday theme stories. With steamy scenes by the fire and snowy settings, these three contemporary romance novels do not disappoint!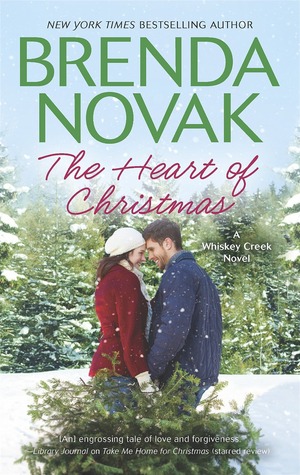 The Heart of Christmas (Whiskey Creek #7) by Brenda Novak – From Goodreads: Eve Harmon has always enjoyed Christmas, but this year it reminds her of everything she doesn't have. Almost all her friends are married now, and that's what Eve wants, too. Love. A husband and kids of her own. But the B and B she manages, and even Whiskey Creek, the small Gold Country town where she was born and raised, suddenly seem…confining.
Eve's worried that her future will simply be a reflection of her past. There's no one in the area she could even imagine as a husband—until a handsome stranger comes to town. Eve's definitely attracted to him, and he seems to have the same reaction to her. But his darkly mysterious past could ruin Eve's happily ever after—just when it finally seems within reach. And just when she's counting on the best Christmas of her life!
Jennie's Thoughts: I haven't read all of the Whiskey Creek novels, but I'm working on it. They are full of interesting characters and intriguing plot twists. This novel was full of action and suspense which I loved, and the romance was pretty steamy too.
Christmas on 4th Street (Fool's Gold #12.5) by Susan Mallery – From Goodreads: There's nowhere better to spend the holidays than with New York Times bestselling author Susan Mallery in the town of Fool's Gold, where love is always waiting to be unwrapped…
Noelle Perkins just got a second chance at life, and she intends to make the most of every minute. That's why she ditched a frustrating legal career to open her own store in Fool's Gold, California. The Christmas Attic celebrates everything that's magical about her favorite season. Business is booming, and as a bonus, gorgeous army doctor Gabriel Boylan has offered to help out during the holiday rush.
Gabriel's memories of Christmas past contain more sour grapes than sugar plums, thanks to a drill sergeant father who ran his home like a boot camp. Spending the holidays with his family while he recuperates from injury sounds as appetizing as last year's eggnog. Still, there are some enjoyable distractions in town, including sunny, sexy Noelle…and the red-hot mistletoe kisses they can't stop sharing.
Gabriel didn't think he was made for happily-ever-afters. But when fate hands you a love as sweet and surprising as this, only a fool could refuse….
Jennie's Thoughts: This is another series I'm slowly making my way through. Noelle and Gabriel's story was sexy and sweet. I loved the subplot with Gabriel's parents and Noelle's store is exactly the type of store I expect in Fool's Gold! This story was full of holiday spirit and snow, including an unplanned stay in a cabin!
Maybe This Christmas (O'Neil Brothers #3) by Sarah Morgan – From Goodreads: This winter, ex-skiing champion, reformed heartbreaker and single dad Tyler O'Neil has only one mission—making sure his daughter, Jess, has the best Christmas ever. The fact that his best friend, Brenna, is also temporarily moving into his chalet at the overbooked Snow Crystal resort is a delicious distraction he's simply going to have to ignore. Theirs is the one relationship he's never ruined, and he's not about to start now.
Ski pro Brenna Daniels knows all about the perils of unrequited love—she's been in love with Tyler for years. But living with him is absolute torture…how can she concentrate on being his friend when he's sleeping in the room next door? Then when Tyler kisses Brenna, suddenly the relationship she's always dreamed of feels so close she could almost touch it. Could this be the Christmas her dreams of a happy-ever-after finally come true?
Jennie's Thoughts: This was my favorite of these three holiday romance novels. I just love the O'Neil family, and a friends to lovers story is one of my absolute favorites. Plus, the skiing stuff was fascinating and I am bit of a sucker for Tyler and his daughter's growing bond! This is one of my favorite romance series I've read lately. It's full of winter fun, family drama, and super hot romance!
NetGalley hooked me up with these three books, but these are my views, I promise!