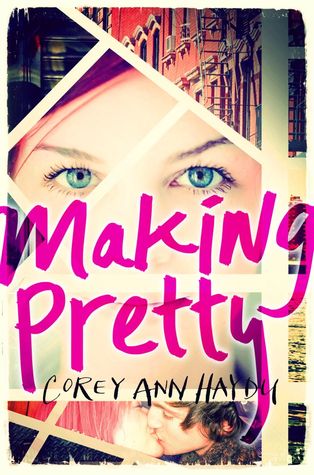 Making Pretty by Corey Ann Haydu
From Goodreads: Montana and her sister, Arizona, are named after the mountainous states their mother left them for. But Montana is a New York City girl through and through, and as the city heats up, she's stepping into the most intense summer of her life.
With Arizona wrapped up in her college world and their father distracted by yet another divorce, Montana's been immersing herself in an intoxicating new friendship with a girl from her acting class. Karissa is bold, imperfectly beautiful, and unafraid of being vulnerable. She's everything Montana would like to become. But the friendship with Karissa is driving a wedge between Montana and her sister, and the more of her own secrets Karissa reveals, the more Montana has to wonder if Karissa's someone she can really trust.
In the midst of her uncertainty, Montana finds a heady distraction in Bernardo. He's serious and spontaneous, and he looks at Montana in the way she wants to be seen. For the first time, Montana understands how you can become both lost and found in somebody else. But when that love becomes everything, where does it leave the rest of her imperfect life?

Jennie's Thoughts: I was drawn into this book in a way that gives you the feeling of an addiction. I could not get enough, wondering with each page out things could get worse for Montana…but then they would and I would be sick with anxiety. This book was whirlwind of ups and downs, crazies and normals, pink hair, and lots of alcohol and smoking.
As in any good book with characters that are a little lost, I wanted to shake everyone by the shoulders more than a few times. And then I would see these moments of hope and love and get all heart-eye-emoji. This book was full of emotion and deep questions about perfection and what that means when your family is funded by making women look perfect. I thought that aspect of the plot was fascinating and deep and wow.
My only complaint is that on one page of the ARC I read, Montana mentions she has a peanut allergy. It's mentioned in an offhand way, more to point out that a short-coming of her father (I won't spoil with specifics) and nothing is ever mentioned again. I picked up on this because my daughter has a peanut and hazelnut allergy. I know, first hand, how involved life with a food allergy is. Montana never mentions an EPI, she never considers if what food she's eating is peanut/nut free. I'm not sure if it was an error that will be changed with the final copy, but it struck me as unnecessary and false.