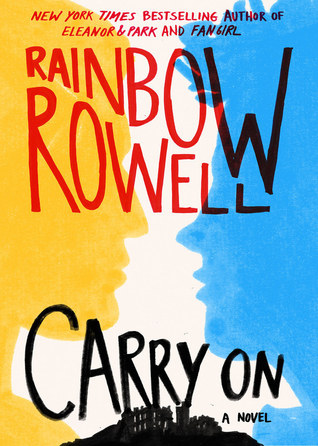 From Goodreads: Simon Snow is the worst chosen one who's ever been chosen.
That's what his roommate, Baz, says. And Baz might be evil and a vampire and a complete git, but he's probably right.Half the time, Simon can't even make his wand work, and the other half, he sets something on fire. His mentor's avoiding him, his girlfriend broke up with him, and there's a magic-eating monster running around wearing Simon's face. Baz would be having a field day with all this, if he were here—it's their last year at the Watford School of Magicks, and Simon's infuriating nemesis didn't even bother to show up. Carry On is a ghost story, a love story, a mystery and a melodrama. It has just as much kissing and talking as you'd expect from a Rainbow Rowell story—but far, far more monsters.
Erin's Thoughts: I'm not going to lie and say that I wasn't just dying to get my hands on this book.  I mean, I adore Rainbow Rowell, and I ADORE Fangirl.  So a book, THE BOOK, that the fanfic in Fangirl is based on? Sign me up!
The first fifty pages or so had me nervous.  Really nervous.  My brain was shouting, "THIS IS HARRY POTTER" the whole time I was reading.  Then, suddenly, I was sucked in to this delightfully quirky world that Rowell created. While Carry On certainly is a well-crafted "Chosen One" tale, it's the strength of Rowell's characters, her sense of humor, and her witty storytelling that make this book the gem it is.  Also…the Baz/Simon romantic scenes? Um…steamy.
Like many of Rowell's works, I don't think this will wow everyone.  There always seems to be debate around her titles.  For me, this was such a winner.  If you loved Fangirl, I would definitely pick this one up.  Such a fun way to connect two books together.  And really, if you've ever enjoyed any of Rowell's writing, pick this up.  It's fun, quirky, and basically everything you could expect from a Rainbow Rowell Chosen One motif!