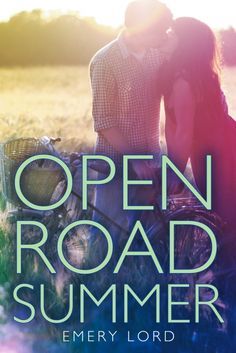 Goodreads summary for Open Road Summer by Emery Lord:
After breaking up with her bad-news boyfriend, Reagan O'Neill is ready to leave her rebellious ways behind. . . and her best friend, country superstar Lilah Montgomery, is nursing a broken heart of her own. Fortunately, Lilah's 24-city tour is about to kick off, offering a perfect opportunity for a girls-only summer of break-up ballads and healing hearts. But when Matt Finch joins the tour as its opening act, his boy-next-door charm proves difficult for Reagan to resist, despite her vow to live a drama-free existence. This summer, Reagan and Lilah will navigate the ups and downs of fame and friendship as they come to see that giving your heart to the right person is always a risk worth taking. A fresh new voice in contemporary romance, Emery Lord's gorgeous writing hits all the right notes.
Jenny's thoughts:
For all the times I thought, "This is so not a happy summer book," while reading The Disenchantments, I thought, "This is totally what a happy summer book should be," while reading Open Road Summer, Emery Lord's debut novel.
Dee is the best friend we'd all love – sweet, bubbly, ridiculously famous but down to earth and most happy with her people. Reagan is just enough of a bad girl to be the yang to Dee's yin, but neither is stereotypically unbelievable or even transparent. Both girls are genuine characters, people you could pick out of your own life. And then there's Matt Finch. What girl doesn't swoon over a boy with a guitar? And a piano? And a voice? And songwriting skills? COME ON.
Then, even though the title matches the name of Dee's song about spending summers with Reagan, the book takes place on the road as they tour across the US in big, cushy tour buses.
This book is like a teen dream come true.
Like any teen dream, though, there is a dose of dra-ma, and I admittedly wanted to shake the characters just a little bit. Okay, a lot. But their problems are the problems we all know as teens, and it's only hindsight that makes it crazy to me. It's a bad side effect of being a decidedly not-young adult reading young adult novels. Alas.
Open Road Summer is the perfect pool or beach read. If you're lucky enough to be one of those folks who can read while riding in the car it would be even better as a road-trip read. This book, feet up, windows down, country music in the back ground? Perfection.